Robert Lewandowski with Bayern Munich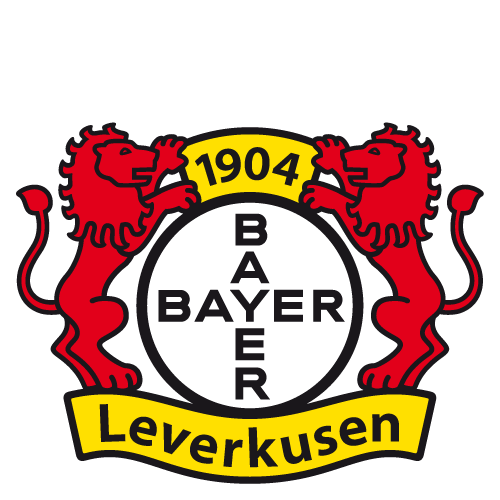 Robert Lewandowski (born 21 August 1988) is a Polish professional footballer who plays as a striker for the German club Bayern Munich, and captains the Poland national team. After being the top scorer the third and second tiers of Polish football with Znicz Pruszków, he moved to top-flight Lech Poznań, and was the top scorer in the league as they won the 2009–10 Ekstraklasa.
In 2010, he transferred to Borussia Dortmund for a reported €4.5 million, where he won honours including two consecutive Bundesliga titles. Before the start of the 2014 season, he moved to their rivals, Bayern Munich, where he won the Bundesliga in each of his first two campaigns. He has totalled over 100 goals in Germany's top division, Bundesliga, and reached the century mark quicker than any other foreign player.
A full international for Poland since 2008, Lewandowski has earned over 80 caps and was a member of their team at Euro 2012 and Euro 2016. With 42 goals, he ranks third among their top scorers of all time. On 22 September 2015, while playing for Bayern Munich, Lewandowski scored five goals against Wolfsburg in nine minutes, the fastest in any major European football league since records have been kept.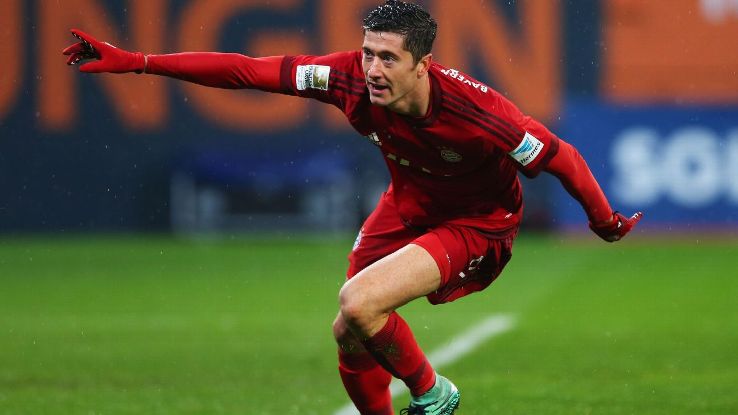 Club career in Bayern Munich
2014-15 Season

In November 2013, Lewandowski confirmed he would sign a pre-contractual agreement for Borussia Dortmund's rivals Bayern Munich which officially happened on 3 January 2014; signing a five-year contract, joining the team at the start of the 2014–15 season. Lewandowski was officially presented as a Bayern Munich player on 9 July 2014. Pre-season started on 9 July 2014 at which time he was presented.

He made his pre–season debut on 21 July 2014, scoring a goal in the process. On 6 August, he opened the scoring as Bayern contested the 2014 MLS All-Star Game in Portland, Oregon, eventually losing 1–2.He made his competitive debut for his new club in a 2–0 loss to Borussia Dortmund in the DFL-Supercup on 13 August 2014, and scored his first goal in a 1–1 draw against Schalke 04 in his second league match on 30 August.On 1 November, in his first league match against Dortmund, Lewandowski scored in a 2–1 win which put Bayern four points clear at the top of the table while leaving his former club in a relegation play-off place. In his third match of the season against Dortmund on 4 April 2015, Lewandowski scored in the 36th minute in a 1–0 win. He had scored after Roman Weidenfeller "parried" Thomas Müller's shot.

On 21 February 2015, Lewandowski scored twice in Bayern's 6–0 win away at SC Paderborn 07, his second goal of the game was his 10th of the league season.He scored twice in the first half on 21 April as Bayern overturned a deficit from the first leg to defeat FC Porto 7–4 on aggregate and advance to the semi-finals of the Champions League. Five days later, after VfL Wolfsburg lost to Borussia Mönchengladbach, Bayern won the Bundesliga title.On 28 April, he scored again in a DFB-Pokal semi-final against Dortmund, opening a 1–1 draw which ended in Bayern's elimination via a penalty shootout. With 17 goals in 31 games, Lewandowski was joint-second top scorer of the Bundesliga season alongside teammate Arjen Robben, behind Eintracht Frankfurt's Alexander Meier.

2015-16 Season

Lewandowski's second season began with the German Super Cup on 1 August, with Bayern losing in a penalty shootout away to VfL Wolfsburg; he had been substituted in the 72nd minute for Rafinha. Eight days later in the first round of the DFB-Pokal, he scored the last goal in a 3–1 win at Oberliga Baden-Württemberg club FC Nöttingen.On 14 August, in the opening match of the new Bundesliga season, he scored the second goal of a 5–0 win over Hamburg.

On 22 September 2015, Lewandowski set a Bundesliga record by coming on as a substitute with Bayern trailing 0–1 to Wolfsburg and scoring five goals in 8 minutes and 59 seconds, the fastest by any player in Bundesliga history, to take a 5–1 lead. He also set Bundesliga records for the fastest hat-trick (three goals in four minutes), and most goals scored by a substitute (five). Lewandowski's five goals in nine minutes was also the fastest in any major European football league since Opta began keeping records, and it ended Wolfsburg's 14-match unbeaten run. He was awarded four certificates by Guinness World Records for this feat.

Four days later, he scored twice in a 3–0 win at 1. FSV Mainz 05, the first goal being his 100th Bundesliga goal on his 168th appearance, a league record for a foreign player. He also reached 10 goals in the opening 7 matches with this brace, a feat only done before by Gerd Müller. On 29 September, he scored a Champions League hat-trick in a 5–0 win over Dinamo Zagreb, putting him on ten goals in three games in a week.

He added two in a 5–1 rout of Dortmund five days later, to total 12 goals in his last four appearances.On 24 October, Lewandowski scored in a 4–0 home win over 1. FC Köln, a result which made Bayern the first Bundesliga team ever to win all 10 of their opening games of a season. The victory in Cologne was also Bayern's 1,000th win in the Bundesliga.On 11 January 2016, he achieved fourth place at the 2015 FIFA Ballon d'Or awards.On 19 March 2016, Lewandowski scored the only goal in a 1–0 win against Köln to bring his league total up to 25 goals; a new personal best. He had scored 24 goals for Borussia Dortmund during the 2012–13 season. His goal against Atlético de Madrid on 3 May in the second leg of Bayern's Champions League semi-final exit saw him end the season's competition with nine goals.

On 7 May 2016, Lewandowski scored both goals for Bayern in a 2–1 win at FC Ingolstadt to confirm the Bavarian club as champions of Germany for the fourth consecutive season.A week later, he scored his thirtieth goal of the season in Bayern's final league match of the season at home to Hannover 96. This made him the first foreign player to score 30 goals in the Bundesliga, the first player since Dieter Müller in 1976–77, and secured him the Torjägerkanone for the second time in three seasons.

2016-17 Season

The 2016–17 season started with Bayern winning the German Super Cup on 14 August 2016. Then in the first round of the DFB–Pokal, Bayern defeated Carl Zeiss Jena 5–0 with the help of Lewandowski's hat trick during the first half. He also assisted Arturo Vidal's goal in the seventy-second minute. Lewandowski opened the 2016–17 Bundesliga season with a hat trick in a 6–0 victory against Werder Bremen.
Style of Play
Lewandowski is said to possess almost all the necessary qualities of a number nine: height, strength, balance, intelligent movement and proficiency with both feet.Lewandowski was given a name that would make it easier for him when moving abroad as a professional footballer. Lewandowski's father, Krzysztof (died in 1995), was a Polish judo champion, and also played football for Hutnik Warszawa in the second division.
His mother, Iwona, is a former volleyball player for AZS Warszawa and later vice-president of Partyzant Leszno. His sister, Milena, also plays volleyball and has represented the U21 national team.[100] His wife, Anna Lewandowska, won the bronze medal at the 2009 Karate World Cup. They married on 22 June 2013 in Warsaw.Lewandowski is a practising Catholic. He met Pope Francis in October 2014 when Bayern Munich visited Vatican City following a 7–1 win over A.S. Roma.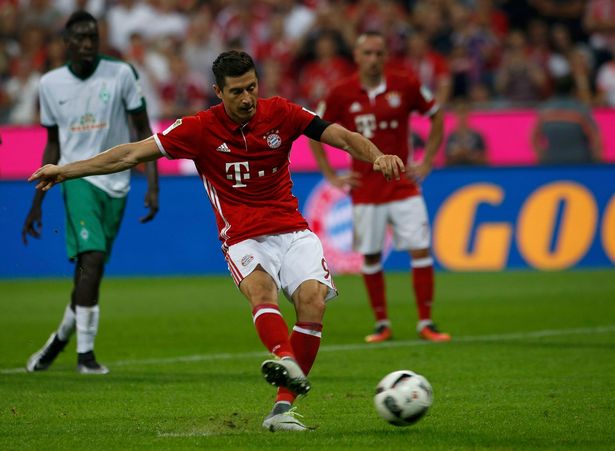 Honours
Bundesliga - Bayern Munich
Bundesliga: 2014–15, 2015–16
DFB-Pokal: 2015–16
DFL-Supercup: 2016

Highest number of scored goals in a game by a substitute: 5 (matchday 6 of 2015–16) Shortest elapsed timespan until a scored hat-trick: 4 minutes (between minute 51 and 55 of matchday 6 of 2015–16) Shortest elapsed timespan until five scored goals: 8 minutes 59 seconds (between minute 51 and 60 of matchday 6 of 2015–16) 100 German top flight goals quicker than any foreign player

Bayern Munich
Set a world record by scoring five goals in eight minutes and 59 seconds in a 5-1 win against Wolfsburg on 22 September 2015. Haul included the fastest Bundesliga hat-trick (four minutes), and most Bundesliga goals by a substitute (five).
Made it to 100 Bundesliga goal in 168 games on 26 September 2015, a record for a foreign player.
In 2015/16, became the first foreign player to score 30 goals in a single Bundesliga season (and the first player of any nationality to score 30 since Dieter Müller in 1976/77).
With 128 goals, is the top-scoring Polish-born player in Bundesliga history, having overtaken Miroslav Klose (121) and Martin Max (126).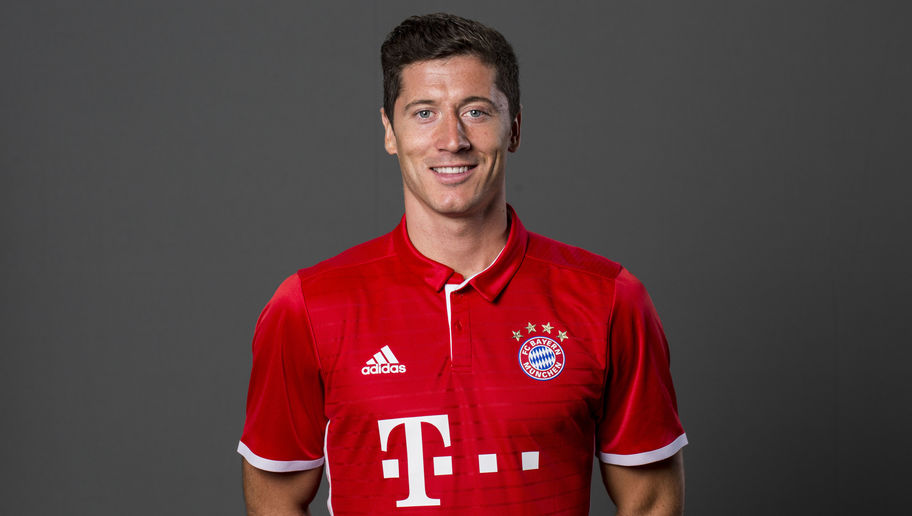 How brilliant is Bayern's Robert Lewandowski
In any other age, Robert Lewandowski might have been the biggest name in European football; UEFA.com salutes the Bayern and Poland striker, and his keep-fit dog.He has scored in his last nine European Qualifiers for Poland, is the only player to score four in a UEFA Champions League semi-final, and once struck five inside nine minutes in a Bundesliga game. In any other era, Robert Lewandowski would have been the biggest name in European football; UEFA.com celebrates 'Lewangoalski'.
"He is one of the most professional footballers I have ever worked with. He eats, sleeps and trains for his job. He's never injured because he focuses so much on the right diet and proper preparation."Josep Guardiola, former Bayern München coach "One of his finest qualities has always been when he's with his back to goal, shielding the ball. The fact that he has become a world-class striker is down to his work ethic in training and his ambition. The way he motivates himself is extraordinary."
"He was very thin, his legs were like sticks and I was always scared that others would break them. I wanted him to be physically stronger and even advised him to eat more bacon! I remember one season my team scored 158 goals; Robert got half of them" Krzysztof Sikorski, Lewandowski's youth coach at Varsovia Warszawa ."He will break all our most significant records. Not just mine 48 goals for the national team – but the number of caps too.
Michał Żewłakow's record of 102 caps will be Robert's sooner or later. I am pretty sure he can score 60 goals for Poland. " Włodzimierz Lubański, Poland's top international scorer ."In 70s Poland had Kazimierz Deyna; in 80s, Boniek, and now we have Lewandowski. Our national team's current success is down to teamwork, but every succes needs a face, and that face is Robert Lewandowski. He is absolutely world class." Zbigniew Boniek, former Poland forward and Polish Football Association (PZPN) president.
Football Prediction Websites provide direct assistance in soccer betting and offers secure tips ans techniques with highest success rate and profits, also support via mobile phone access ( Sbobet Mobile ) iPhone, iPad, Android, Windows Phone, Blackberry. Free register with special bonus.